Banana Republic, for me, is one of those hit or miss stores.
I go in and find absolutely nothing, or love every single piece in the entire store.
While perusing the website recently, I've come to the conclusion that
currently it would most likely be the latter and I love everything.
Here are a few of my favorite finds.
If you've been keeping up with me here in my tiny little home on the internet,
then you saw this post
here
inspired by a good friend,
and know I'm on the hunt for my perfect blazer. This is the perfect outfit for a casual friday.
A blazer, stripes, boyfriend jeans, adorable flats, and a hint of red.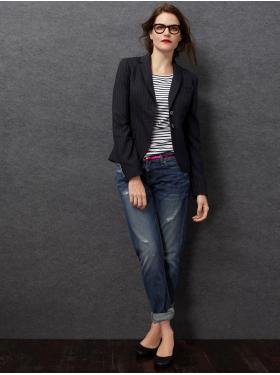 In the midst of -4 degree mornings,
I cannot wait for spring mornings and pretty outfits.